REGYP can help you with all your recycling needs. REGYP specialises in the recycling of gypsum waste, but can also provide recycling options and recycled product applications for minerals, biosiolids, organics, compost products and blends to suit your needs.
Other products we can help with on resource recovery are fibre-cement, paper/cardboard, mattresses and industrial lime and industrial gypsum waste.
ReGyp was started in 2007 to offer sustainable recycling services to the construction industry. The management team at ReGyp had experience in industrial & plasterboard plant construction, mining and fine grinding and both saw an opportunity to utilise their skills and experience to create ReGyp.
The company now provides cost effective and sustainable plasterboard waste recycling services to construction and demolition companies in the Sydney, Melbourne, Brisbane, Canberra and Perth areas. ReGyp offers waste disposal points, waste bags, skip bins and truck pick-up services for the collection of clean plasterboard waste from building and construction sites.
Unlike services from plasterboard manufacturers, REGYP accepts and recycles all board products in all forms, including waste generated from new construction, demolition, fit-out and renovation sites. The ReGyp solution is 100% efficient, with all plasterboard & gyprock waste recycled into usable products.
Contamination is a big issue when dealing with plasterboard waste from construction and demolition sites, however waste savings and increasing project sustainability can be achieved by separating the waste on site. This can be achieved by having separate plasterboard piles, skip bins or our new specific plasterboard waste bag.
ReGyp has recycling plants in Sydney, Cowra and is currently constructing the Melbourne plant. The recycling technology developed by ReGyp turns the plasterboard waste into a high quality gypsum product. The recycled gypsum is then sold to manufacturers to remake plasterboard and also as a fertiliser in agricultural applications.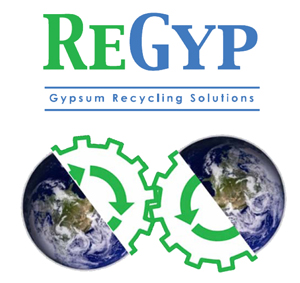 You have visited the REGYP News Room, for more info please visit the full REGYP website www.regyp.com.au , or call 1300 473 497 or email info@regyp.com.au for more information.