Grocon
The Green Building Council of Australia (GBCA) has given Grocon's Pixel building in Melbourne a perfect score under the rating system. This is the 250th building under the green star system.
The building will be the first Carbon Neutral office building in Australia with any carbon emissions used in the building's ongoing operation to be offset by renewable energy from large photovoltaic panels on the roof, as well as wind turbines. In addition, over time Grocon will offset all of the carbon that was generated in manufacturing and installing construction materials.
Vaughan Constructions
Vaughan Constructions has won the Australian Institue of Building 2010 professional excellence award for its Coca-cola Amatil distribution centre in Eastern Creek.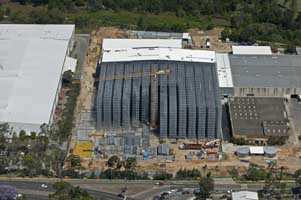 Australand
Australand, the diversified property group is set to present conservative results today. It is expected that it will report a 4.7 per cent fall in net profit after tax for 2010.
You have visited the REGYP News Room, for more info please visit the full REGYP website www.regyp.com.au , or call 1300 4 REGYP (73497) or email info@regyp.com.au for more information.
Other companies that could help you reach your sustainable building and Green star targets are Green Star Projects and Elemental Power (EPi).