WHITE GOLD
For many reasons gypsum can be considered to be a farmer's best friend. REGYP recycled gypsum is an excellent source of both Calcium and Sulphur – essential for both yield and grain quality, but its benefits go much further. As a soil amendment, gypsum helps improve the physical properties of soil, such as water retention, permeability, water infiltration, drainage, aeration and structure providing a better environment for the plant roots. The calcium can also displace harmful sodium essential to the sustainability of most irrigated soils. Our group of companies handle 70,000+ tonnes of natural & recycled gypsum products every year.
GREEN GOLD
Compost, manures & blends contain nutrients, organic matter and moisture, that can improve the soils chemical and physical properties and enhance plant growth. REGYP compost contains nitrogen, phosphorus, potassium and increased sulphur, calcium coupled with a number of micro nutrients in higher concentrations than in many agricultural soils. Compost can enhance soil properties such as water retention, porosity, nutrient supply and organic matter supply. We can also blend the compost with minerals, fertiliser, humates and biology to increase the effectiveness. Products also available in granular form.
DON'T TIP IT, RECYCLE IT
REGYP offers services to assist you to reduce plasterboard waste costs and meet higher Green Star building ratings on your next construction project. REGYP can produce full waste reporting for your next Green Star project (GBCA). REGYP recycles waste plasterboard derived from new build and demolition into usable products, reducing the need to landfill waste and reducing the demand on natural mined gypsum. REGYP services Boral, CSR, Knauf, BGC and many more construction contractors through its established recycling sites. With our numerous sites, we are Australia's biggest plasterboard waste recycler.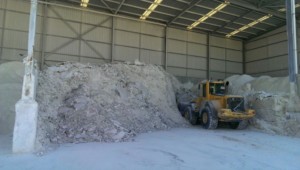 REGYP provides recycling solutions and recycled product sales. We are the only plasterboard recycler offering a national solution. Using our products & services can reduce your costs and increase sustainability. REGYP produces recycled products such as gypsum, lime, silica, compost, manures and humates.
Recycled gypsum is derived from clean plasterboard waste. The recycled gypsum is a highly pure and soluble source of gypsum with a low sodium content. The gypsum products are available in various forms tailored to match broad acre and horticultural applications.
Refined not Mined.
PLASTERBOARD WASTE RECYCLING
REGYP provides cost effective and sustainable plasterboard & gyprock waste disposal and recycling services to construction and demolition (C&D) companies. REGYP offers waste disposal points, skip bins and truck pick-up services for the collection of plasterboard waste from building and construction sites. Using our services can reduce your waste costs, increase sustainability, reduce the amount of waste landfilled and reduce demand on gypsum mining.
REGYP has precision spreading, bulk tippers, soil mapping, tillage and earthmoving, crushing & screening equipment to suit various applications and customers. REGYP's spreaders and deep rippers are suitable for broadcasting and deep placement of fertiliser, gypsum, lime, dolomite, compost, manures, coal, humates, sand and soil.