REGYP and Rhino Demolition use the Harbour Constructions barge to remove demolition waste from inaccessible water front properties in Sydney Harbour.
The barge can transport trucks from a nearby wharf to the demolition site for loading and return to the wharf for unloading.
Harbour Construction's barge coupled with the Webb Comm tugboat, can also transport earthmoving equipment and construction materials from a nearby wharf to the inaccessible water front site.
On top of the Sydney Harbour transport service, Harbour Constructions offers wharf building, jetties, pontoons, piling and diving services. Call (02) 9810 2855 for more information.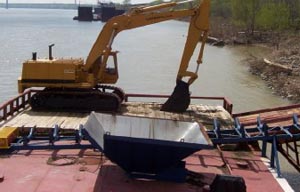 You have visited the REGYP News Room, for more info please visit the full REGYP website www.regyp.com.au , or call 1300 473 497 or email info@regyp.com.au for more information.