One-Cal: Fine milled mineral fertilisers & soil amendments
Ever wished you could tailor your fertiliser to the nutrient & pH needs in each paddock? And then easily apply the fertiliser blend with complete accuracy? If so One-Cal is for you.
The benefits of One-Cal fine milled mineral fertiliser:
tailored blends for each application;
blends available for acid, neutral and alkaline;
best possible coverage;
minimised leaching and controlled solubility;
trace elements can be added;
liquid products can be added;
seed can be added;
a true single pass application.
One-Cal Core Ingredients:
Phosphate Rock – 10%P, 24% Ca;
Calcium Carbonate (limestone) – 38% Ca;
Gypsum – 23% Ca, 17 S;
Elemental Sulphur – 100% S;
Magnesium Carbonate- 27% Mg.
For more information on One-Cal suspension fertiliser blends please call 1300 473 497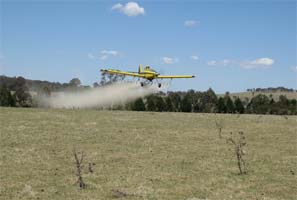 You have visited the REGYP News Room, for more info please visit the full REGYP website www.regyp.com.au , or call 1300 4 REGYP (73497) or email info@regyp.com.au for more information.