A trial undertaken in poorly performing soil using the main ingredient to OrgGyp, a pasturised organic compost, saw an increase in yield on a Riverina tomatoe crop. These increases more than covered the cost of the using the compost, and raised yields in the poor areas to levels seen across the rest of the field.
The 2006 EcoResearch trial was undertaken to compare the use of compost (organic pasturised material, OPM) and chicken manure on tomatoe crops in the Riverina. The results showed an increase in marketable tomatoes produced in the OPM area compared to control and litter (chicken manure) applied areas.  Marketable yield for OPM was greater at 10t/ha of OPM, compared to 10t/ha of chicken litter and the control block.
Other things to consider are:
OPM is pasteurised, and so pathogens and weed seeds are destroyed. This means that no weed seeds are introduced onto the farm. Chicken manure is not typically composted.
The carbon to nitrogen ratio is lower in manure than compost, which may result in an overall loss of soil carbon with time, since the soil bacteria can decompose the soil carbon due to the available nitrogen present.
The intention of adding compost is to increase soil carbon and nutrients. Soil carbon provides the benefits of:
Buffering the soil pH
Retaining nutrients in the top soil
Reducing risks of soil diseases
Increase in soil moisture retention in compost due to organic matter and water crystals from nappies.
The high nitrogen in chicken manure results in soil biology decomposing the soil carbon
The high phosphorous in chicken manure is largely in excess (10-20times) that it gets lost in the environment through subsoils and water runoff and so the high phosphorous in manure is not necessarily as beneficial as it may seem.
REGYP sells a pasturised soil conditioner product called "OrgGyp" which can be 100% compost (OPM) or a product blended with Super Ag Gypsum to increase the available sulphur and calcium.
See the Org-Gyp brochure for more information on compost and gypsum blends.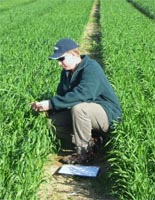 You have visited the REGYP News Room, for more info please visit the full REGYP website www.regyp.com.au , or call 1300 473 497 or email info@regyp.com.au for more information.