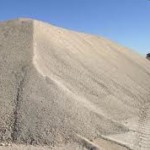 Civil Engineering grade bentonite has for many years been used in diaphragm walls construction, tunneling and dam sealing. 
REGYP bentonite is inert except for a light alkalinity, is harmless to the human digestive system and can be dried & re-swelled an infinite number of times.
REGYP Sealing Powder and REGYP Sealing Granules are prepared especially for dam sealing applications and are available from Brisbane (QLD), Miles (Qld) and Long (Vic).
REGYP can also supply high quality Bentonite drilling fluids and additives for your project.